A Good GPS App for Backpacking
I discovered recently (and I'm really late to the party on this) that modern smart phones actually have a full-fledged GPS chip in them–I had always assumed they just triangulated your position from cell towers or something like that, and that you'd need to have cell service or wifi for location stuff to work. Not the case! Your iPhone always knows where it is by talking to satellites in space :).
With this realization came another one–my iPhone, with its nice big touch screen, has got to be the most awesome backpacking trail map and GPS tracker device ever! And it totally is. But finding a good GPS app that was reasonably priced turned out to be kind of a headache, so I wanted to share my findings.
Real quick, here are the first options I pursued and dismissed.
Google Maps allows you to download map regions for offline use, for FREE. (It literally just has you draw a rectangle on the map and it saves all the map data, including the satellite view). This is great for getting an offline map to the trailhead if your drive is complicated and going to take you out of service range (like the Dinkey Lakes Trailhead!). It's not so great for backpacking, though, because you don't get topography information, there's no recording functionality, and it may not have your trail in their mapping data (Google has a portion of the Dinkey Lakes trail in their system, but not all of it).
AllTrails.com seems to be taking over the backpacking seen, and they have an app that looks great and includes trail maps and GPS functionality. The only problem? If you want that functionality offline, you need to buy a $30/yr. subscription. I'm happy to pay for this functionality, but I don't need it for a year and $30 just seems too steep.
Gaia is an app that I read a blog post on, and it sounded good, but the app is $20. I probably would have sprung for that if it was the best option, but I found something good that was much cheaper.
Maps 3D Pro $4 on iTunes and is just what I was looking for at an attractive price.
It provides access to multiple maps databases, so you can check out your options. The USGS Maps had the most detailed trails and landmark names for our trip, so I used that for our trip.
It was a lot of fun to use. With it, we could see how much farther we had to hike, what the elevation change was like, and of course whether we were still on the right trail.
We also hadn't made firm plans on where we would stop each night, so it helped us make those decisions on the trail based on how we were feeling.
Here are some screenshots from our first hike on the Dinkey Lakes trail.
This is the 3D view of our hike to First Dinkey Lake (in the app you can move it all around to see the terrain from different angles!)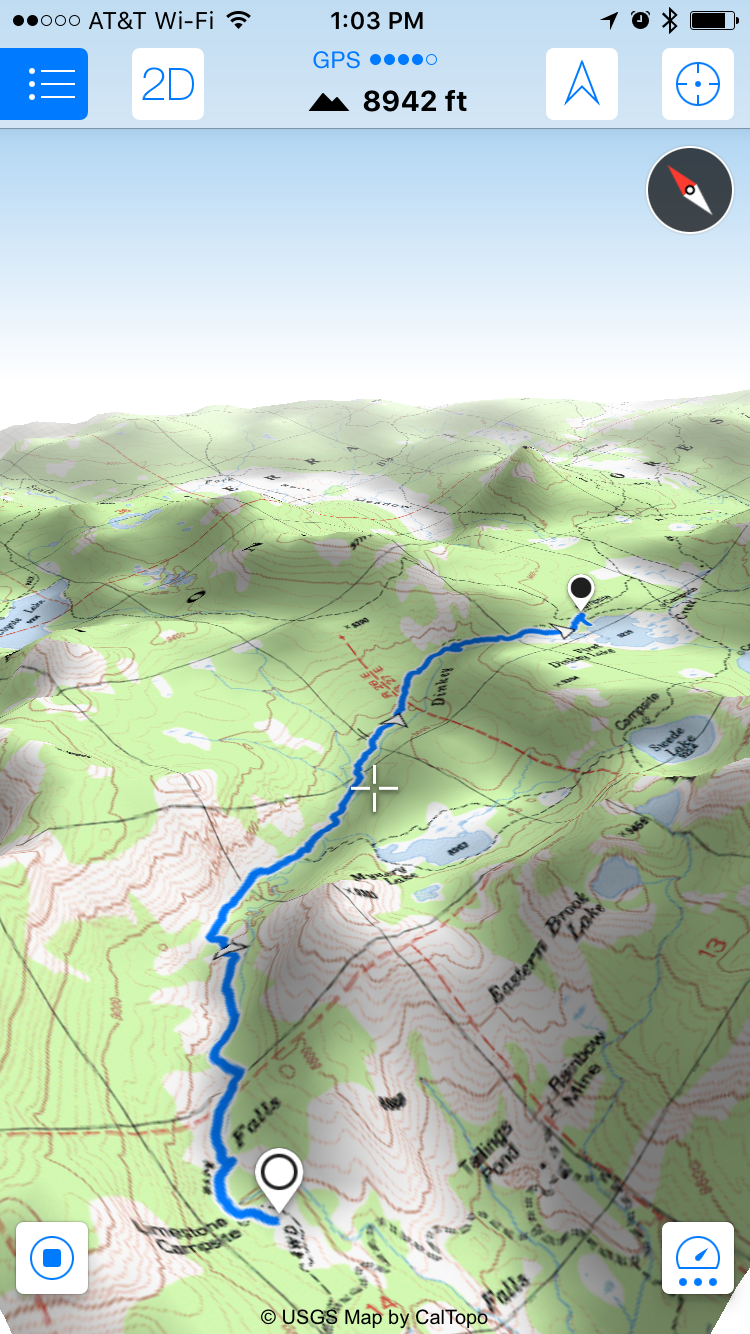 Here's the 2D overhead view. Note that the trails are there on the map, but the app doesn't know that you're on the trail or where you're heading, so if you want to know how far two points are away from each other you really just have to estimate distances using the map legend.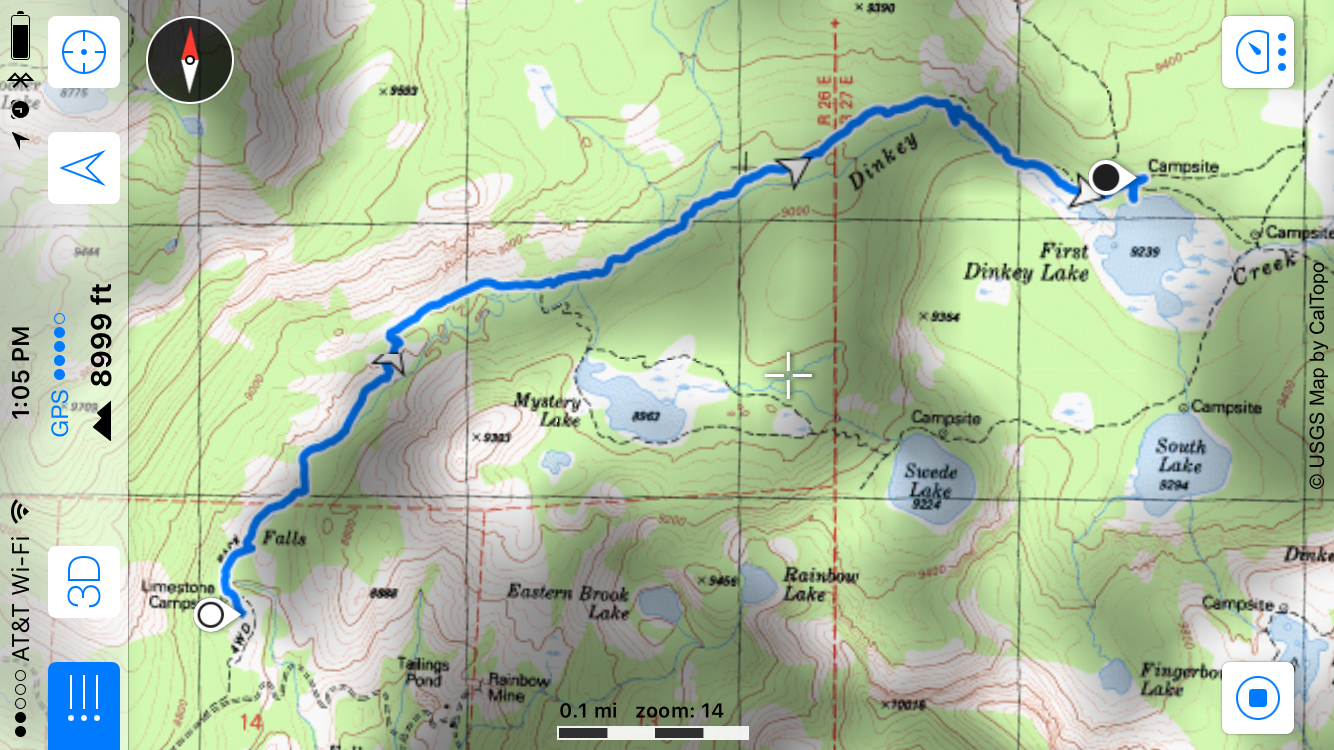 And here's the summary report on the hike.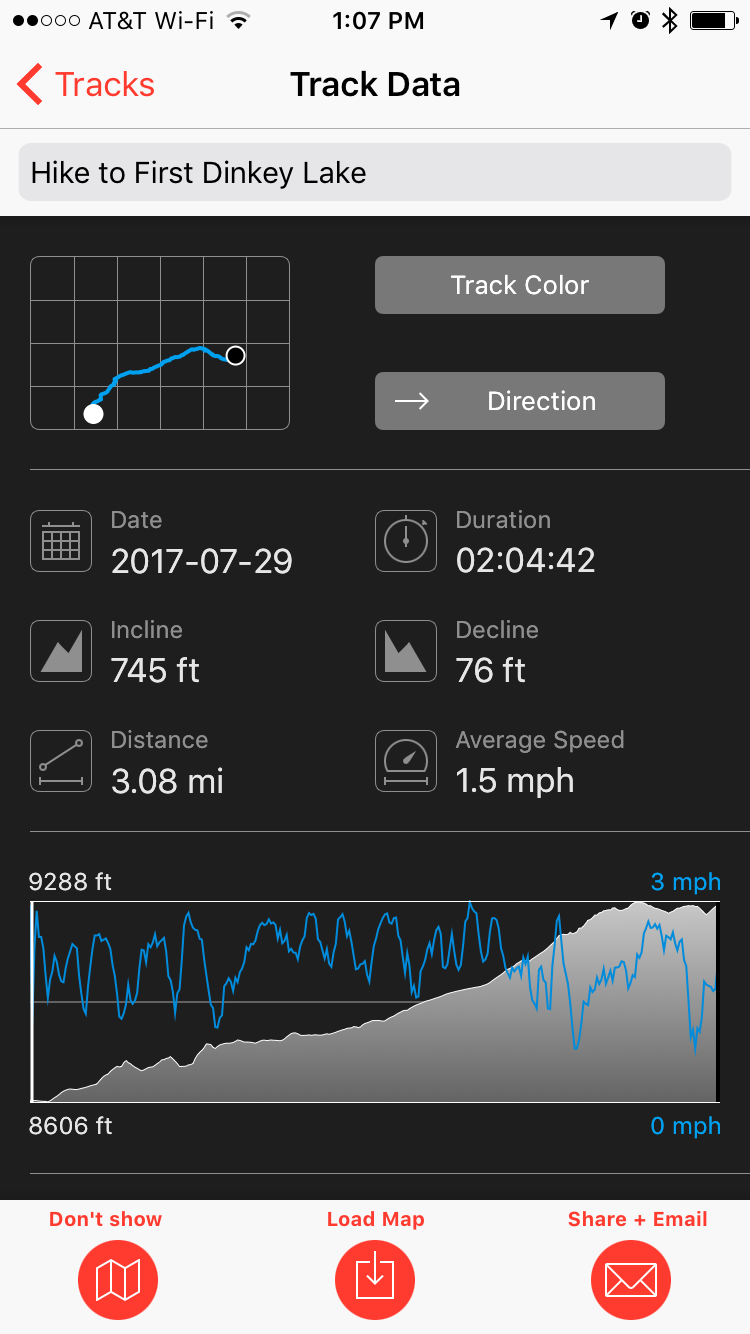 That summary view is a little hidden–I didn't find it till after we got home. You go to the menu, then to "Track List", then click the info (i) button next to your hike to see this summary.
Also, when you're in the middle of a hike, you can see these details by going to the Track List and you'll see a track named "Recording"–view it's info to see how far you've hiked so far, etc.